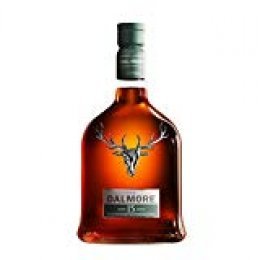 Their new flagship expression of The Dalmore, delivers the perfect balance between spirit, wood and maturity.

All single malts mature at different rates, maturing best in different styles of cask.

Long experience tells us them that after fifteen years the combination of citrus orange, aromatic spices, nuttiness and dried fruits from European oak sherry casks is perfectly balanced.

Not just any sherry casks, but those that have been used to create some of the worlds most premium fortified wines - Amoroso, Apostles and Matusalem sherries from Gonzalez - Byass, Spain.

Good attack on the palate, elegant and refined. The aged Matusalem, Apostoles & Amoroso Oloroso sherry butts deliver a rich and aromatic heart full of dried spices- cloves, cinnamon and ginger. A concentrated citrus mouth-feel tantalises the middle part of your tongue with Seville orange, lemon and lime.

Truly a Highland malt of great distinction.

Matured 100 % in sherry casks - Matusalem, Apostoles and Amoroso.

This is, quite simply, the perfect single malt, the partner for celebration.
Vendido por: Amazon
Actualizado: 09/03/19
Precio: 53,95€ (70,89€)