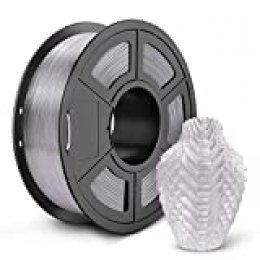 【SUNLU Strong PETG Filament】SUNLU PETG filament 1.75 made of PETG plastic, offers the best of both PLA and ABS, ease to use like PLA and durable strength like ABS, it's a strong filament.
【Easy to Use】No tangle, no clog, no bubble. SUNLU PETG filament designed to fit most common 3D printers, it's very easy to use, just like the PLA filament 1.75 mm.
【High Compatibility】1.75mm Filament Diameter (Dimensional Accuracy +/- 0.02mm), the PETG filament can be used in a wide variety of common 3D printers, just double-check the spool size to ensure compatibility.
【Recommended Settings】Nozzle Temp: 235°C - 245°C (455°F - 473°F); Bed Temp: 65°C - 80°C(149°F - 176°F); Cooling Fan: Turned OFF or 50%.
【One-To-One After Sales Service】30 day Money-back, welcome to contact us via various social software for any products issues, there will be professional customer service staff to help you solve the problem, let's have fun on 3d printing.

Vendido por: Amazon
Actualizado: 03/10/20
Precio: 20,39€ (24,99€)