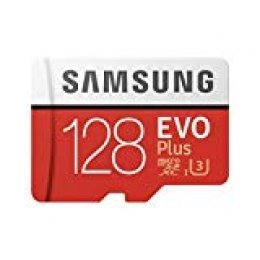 Samsungs EVO Plus microSD leverages Samsungs advanced NAND technology to achieve impressive speed and capacity improvements, most notable in the EVO Plus 256GB, 128GB, 64GB, and 32GB, which now reach industry maximum UHS-I read speeds of 100 MB/s (32GB up to 95MB/s). EVO Plus microSD cards provide a more apposite answer for consumers looking to store heavy-loaded, high-resolution photography, videos and files.

Specifications

General FeatureProduct Type microSDXC Memory CardFamily Line EVO PlusApplication Mobile phone, Smartphone, Tablet, etcCapacity 128GB, (1GB=1Billionbyte)* Actual storage capacity may be lower than the labeled capacity. Part of the storage may be used for system files and other storage control purposes.Interface UHS-I, compatible to HS interfaceDimension (WxHxD) 15x11x1 mmWeight Approx. 0.5gAccessory SD adapter

PerformanceSpeed Read : up to 100MB/s with UHS-1 interfaceWrite : up to 90MB/s with UHS-1 interface* The foregoing read & write speeds are demonstrated by internal test conducted under certain controlled conditions, and actual speeds may vary depending upon usage and other conditions. For products incompatible with UHS-I interface, the speeds may vary subject to different interface conditionsSpeed Class Grade 3, Class 10

EnvironmentOperating Voltage 2.7~3.6VStorage Temperature -40 to 85Operating Temperature -25 to 85Durability 10,000 mating cycles

CertificationEMC FCC, CE, VCCI, NATAWarranty Limited 10 year warranty. * Warranty does not extend to dashcam, CCTV, surveillance camera and other write-intensive uses. * Warranty for SD adapter is limited to 1 year.
Vendido por: Amazon
Actualizado: 18/01/19
Precio: 26,65€ (88,99€)