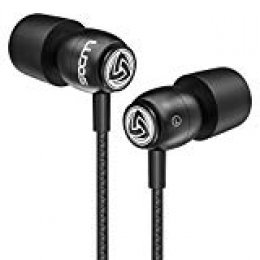 Description
LUDOS CLAMOR heahphones offer a quality and great sound. Thanks to our unique and improved speakers, the sound will be brilliant, deep and immersive. Plus, they will be comfortable to wear thanks to the new generation pads. Are you tired of the old and dirty silicone that keeps falling down from your ears? Memory foam pads adapt to you without any hassle. Materials are innovative and 40% more resistant to wear compared to the traditional memory foam. The quality you were looking for at the right price.
Compatibility
LUDOS CLAMOR headsets are a compatible and universal product: they can be used with all mobile models and personal computers as long as they have a 3.5 mm jack. If you have a device with an Apple or USB Type C connector, you will simply need an adapter to use them (we advise you to always buy original adapters).
Customer care
We believe in our clients' satisfaction and we always do our best to offer a customer care experience that meets your needs. You can contact us anytime you want: we will respond within 24 hours.
Our EBOOK
Together with your purchase, you will receive through email our ebook with all our precious guides to use your new headphones at their best. We offer you our ebook and our experience completely for free.
Technical features
Impedance: 32Ω ± 15%
Sensitivity: 92dB to 1 KHz
Sound pressure: 92 ±3 dB
Frequency response: 20Hz-20000Hz
Jack: 3.5 mm
Cable lenght: 1.3m
The package includes:
- 1x headphone
- 1x replacement set in memory foam and silicone
Vendido por: Amazon
Actualizado: 22/06/19
Precio: 13,52€ (30,00€)